In 1960, the average American got married at age 20. Many of these young adults couldn't legally drink alcohol at their weddings and often hadn't graduated from college, yet they felt responsible enough to commit to someone for life. It was a different time.
Twenty-first century 20-year-olds aren't in such a hurry to walk down the aisle. In 2017, the average marriage age was 29.5 for men and 27.4 for women. The general consensus seems to be that one's early 20s should be spent partying and studying, not marrying and childbearing.
Free online dating sites for young adults
The era of young singles is here, and it's your time to shine. Today's singles have potential date options at their fingertips thanks to dating sites and apps for young people, and many seem eager to play the field instead of settling down after their first swipe. If you want to explore the dating scene and find compatible dates, you can use the following dating sites and apps to get something going.
Top Dating Sites for Young People (#1-2)
Online dating usage has spiked among 18- to 24-year-olds in recent years. In 2013, only 10% of singles in this age group said they had used a dating site. Just two years later, 27% said they'd tried online dating. That number has only grown as dating sites and apps become increasingly normalized and accepted.
Today's most popular dating platforms are packed with young people looking for romance, love, or just something to do on a Friday night.
★★★★★
4.8/5.0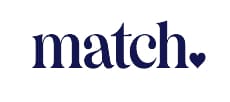 Relationships: Friends, Dates, and Relationships
Match System: Browse by zip, age, appearance, more
Our Experts Say: "Match has facilitated the most dates and relationships of any dating site, and its large audience and high success rate make it our top review…" Full Review »
Browse Free: View Photos Now
Many of the current users on Match were children (and many weren't even born) when the dating site launched in 1995.
Online dating has come a long way since those early days, and Match has become successful and popular by pioneering a personality-driven matchmaking system that still holds up nearly three decades later.
About 25% of Match.com's membership base is under 30, and 74% have attended college. An internal poll conducted by the dating site also found that 42% of members said their favorite part about online dating is it introduces them to people they wouldn't have met otherwise, and 29% said they really just want to escape the bar and club scene. I can definitely sympathize with that.
2. Tinder
Tinder is famous (or perhaps infamous) for inventing swipe-right matchmaking in 2012 and turning the online dating scene into one big game of Hot or Not. Since then, the dating app has powered over 60 billion matches worldwide.
Like it or not, #SwipeLife isn't going anywhere for the time being. Tinder receives about 2 billion views on an average day. That's impressive. That's more people than live in the U.S. and China combined. That means singles have virtually endless opportunities to swipe, match, and chat.

Tinder is a free dating app with a lot of perks to offer young singles. Over 50% of Tinder members are between 18 and 25 years old.
You can create a Tinder profile instantly by connecting to your social media accounts, and the app encourages members to stay active, send GIFs, and engage in multiple flirty conversations to up their odds of meeting the right person online.
Top "Free" Dating Sites for Young Adults (#3-4)
Typically, singles who are just out of high school or college aren't exactly rolling in dough. Even if they're not among the 63% of college graduates with student debt exceeding $10,000, today's 20-somethings are just starting their careers and building their savings, so they're probably on a ramen-noodle budget that doesn't leave much room for dating expenses.
If you want to save money while picking up dates, joining a free dating site is a great strategy. Many sites offer a lot of bang for your buck and can help you keep your cash for that first date.
★★★★★
4.7/5.0
Relationships: Serious Relationships
Match System: Search, Receive Partner Suggestions
Our Experts Say: "EliteSingles is a leading dating site just for busy, single professionals. More than 80% of members have earned a college degree, and most are looking for a serious commitment…" Full Review »
Browse Free: View Photos Now
Elite Singles is a premium dating site for young professionals interested in relationships. Over 85% of members have advanced degrees, and over 90% say they're looking for a long-term romance. The site is free to join, but only premium members have full access to the dating profiles and messaging features.
As a quality-driven dating site, Elite Singles matches users based on their educational backgrounds, relationship goals, and psychological profile. Each member takes a personality questionnaire upon joining, and this information is the foundation of every daily match suggestion.
Every month, Elite Singles helps over 2,500 singles find love in over 25 countries, so it's well worth investing in this online dating solution.
4. OkCupid
OkCupid is a forever free dating app built by singles, for singles. It's free to join, free to chat, free to match, and free to do just about everything on OkCupid. Users can upgrade to A-List to rank higher in search results and see their profile views — but this is 100% optional.
Four Harvard math majors put their heads together in 2004 to see if they could create a formula for true love, and the result was a data-rich dating space like no other.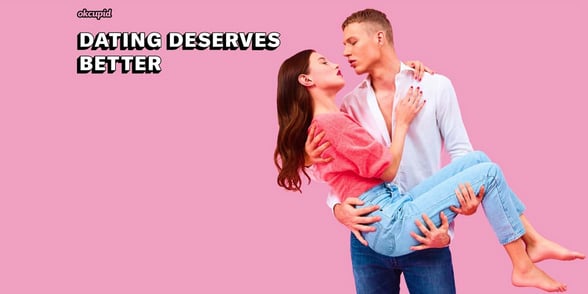 To this day, OkCupid powers its compatibility ratings by drawing from thousands of personal questions ranging from "Do you like the taste of beer" to "How many children do you want to have?" It even has somewhat controversial questions about politics, religion, women's rights, and COVID vaccinations. The more questions you answer, the more accurate your compatibility scores will be.
OkCupid makes over 91 million love connections every year and is responsible for over 50,000 dates per week. Singles of all ages, orientations, gender identities, and backgrounds can feel right at home on this free dating site and app.
Top "Apps" for Young Adults (#5-6)
It's no secret that young people are on their smartphones a lot. Maybe too much. The average 15- to 24-year-old spends over four hours a day on his or her phone, checking it every 8 1/2 minutes. You know, just in case a new match result came in. Studies also show that young people spend over 10 hours a week on dating apps.
Dating apps give young adults the ability to keep tabs on their date prospects throughout the day, and it's a fun way to gamify that dating scene.
★★★★★
4.9/5.0

Available on: iOS, Android
Relationships: Casual Dates, Relationships
About the App: Zoosk is the number one app for finding dates, and if you sync up your Google+ or Facebook account, you can have a profile in seconds. The app has 38 million members and will deliver matches to your inbox on a daily basis based on your behavior such as who you search for, like or don't like, and message. The Carousel is another section for matching (tap the heart if it's a yes and the X if it's a no).
Browse Free: View Profiles Now
Zoosk started out as a socially savvy dating site, and it has become the top grossing dating app in the App Store. The Zoosk app has been downloaded over 30 million times since its launch.
After over 617,000 reviews, the Zoosk app has an average rating of 4 out of 5 stars, and many members compliment the app for having a lot of search and matching options. "Almost eight years ago, I met my wife through Zoosk," said a Google user. "I just want to point out that Zoosk really works."
Zoosk members send each other over 3 million daily messages on the platform, but texting isn't the only way to get in touch. Free members can also send winks or virtual gifts to catch someone's attention.
6. Plenty of Fish
Plenty of Fish is a free dating site and app where chatting is the name of the game. POF members send over 1 billion messages a month on average, and there's always someone online to flirt with you. It's free to send messages on Plenty of Fish, and that's why young singles enjoy this site so much.
"I've been on POF for less than a week and have met a person that is real," said Jon of Bedford. "So far, all is good. Will see how things progress."

Over 150 million people have joined the POF community since 2004, and over 4 million visit the platform on a daily basis in search of love.
Plenty of Fish doesn't need flashy features or unique profile questions to attract people to its shores. This site prides itself on being the best dating site for conversations — and, really, a young person can't ask for much more than that.
Top "Gay" Dating Sites for Young Adults (#7-8)
Generation Z is currently the most rainbow generation with only 66% of people between 16 and 22 identifying as "exclusively heterosexual." Comparatively, about 71% of millennials, 85% of Gen Xers, and 88% of baby boomers said the same. Each generation is just a little more rainbow-colored than the one before it, and that's a pretty wonderful cultural shift to be part of, if you ask me.
LGBTQ+ singles can meet people across the spectrum by using the following popular dating sites for gay, bisexual, and queer people.
★★★★★
4.8/5.0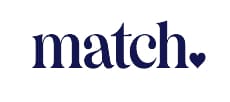 Relationships: Friends, Dates, and Relationships
Match System: Browse by zip, age, appearance, more
Our Experts Say: "Match has a massive and extremely active gay user base, as over 1 million gay, bisexual, and curious men use the site to find dates and partners…" Full Review »
Browse Free: View Photos Now
Match has a diverse international membership base that includes many gay men seeking dates and relationships. Match is currently active in 50 countries, including the U.S., the U.K., and Australia.
This LGBTQ-friendly dating site allows members to identify as a "man seeking men." This gender preference isn't set in stone. You can go into your settings and switch things up anytime. Match allows singles to explore their sexuality and look for dates by using a variety of automatic filters and match suggestions.
8. Grindr
Since 2009, Grindr has become the number one name in the gay dating scene. The dating app uses location-based match features to arrange dates, and that makes it a fabulous tool for single men out partying, drinking, and carrying on. It's easy to spend a couple minutes swiping and then slide into the DMs of a local cutie.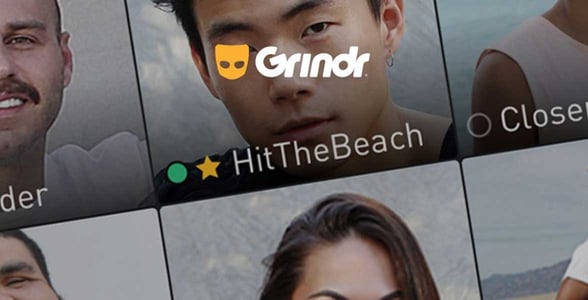 Grindr aims to find hot dates who are "zero feet away," and its fast-paced swiping tools have led to gay hookups in just about every corner of the world.
Though Grindr has the reputation as a hookup app, it can also lead to genuine relationships. "I met my boyfriend on Grindr. We've been together for over a year now," said a Reddit user in a thread. "If you simply just hang out, don't hook up, and you guys still give an equal amount of effort to talk afterwards, then that means there's potential."
Top "Lesbian" Dating Sites for Young Adults (#9-10)
Lesbians don't always have good experiences with online dating. They can run into creeps who only want to have a threesome, or they can become frustrated by the limited number of lesbian profiles on general dating sites and apps.
Basically, lesbians are swimming in a rather small dating pool, and they need female-friendly tools to weed out the jerks and deliver beautiful date options.
★★★★★
4.7/5.0

Relationships: Serious Relationships
Match System: Search, Receive Partner Suggestions
Our Experts Say: "EliteSingles is a wonderful option for lesbian women, as its users vary in age, gender, sexual orientation, and interests, among others…" Full Review »
Browse Free: View Photos Now
Elite Singles is a sophisticated and safe dating platform where women can feel comfortable mingling with one another. Over 381,000 new members sign up to Elite Singles every month, and many of them are lesbians looking for high-class partners.
Members have to pay for the privilege of sending you a message on Elite Singles, and that monthly fee keeps the spammers and scammers at bay. Lesbian singles don't have to worry about getting inappropriate or profane messages here. The elite daitng site screens its members and verifies identities to ensure it only serves the highest caliber singles in the dating scene.
10. Bumble
Bumble is an innovative dating app made by a woman on behalf of women everywhere. Bumble CEO and Founder Whitney Wolfe Herd left Tinder in 2014 to see if she could create a more empowering dating tool for the modern woman. This 20-something entrepreneur came up with an app where women held the power to turn a match into a conversation.
Only women can make the first move and send the first message on Bumble. That isn't such a big deal for lesbian singles, but it's a game-changer for straight couples typically bound by traditional gender norms.
Today, Bumble has facilitated over 500 million first moves, and it is the most successful independent dating app on the market. This is a dating app with integrity, and it's on a mission to inspire real relationships between singles around the world. The Bumble team even turned down a $450 million buyout offer from Match Group. For a feminist dating app, that's pretty ballsy.
Top "Black" Dating Sites for Young Adults (#11-12)
According to recent census data, over half of African-Americans are millennials or younger, and their most common age is 24. Biracial Americans are the youngest demographics in the country with a median age of 19.
The younger generations are growing more racially diverse, and that's great news for singles attracted to people of color. You can head to a black dating site to surround yourself with singles who come from similar backgrounds. Thanks to black dating sites, you can be in the majority and find tons of compatible dates near you.
★★★★★
4.1/5.0

Relationships: Deep Relationships or Just Casual Dates
Match System: Search by location, age, more
Our Experts Say: "BlackPeopleMeet is a large dating site, and its user base is growing every day. If you're only interested in black or biracial daters, you've come to the right place…" Full Review »
Browse Free: View Photos Now
BlackPeopleMeet is the best black dating site for singles of all ages. This niche platform has been making matches between black and biracial singles since 2002.
Many success stories have come out of BlackPeopleMeet, and it's touching to see so many people enjoying their dating experience here. "This site is wonderful, and I met the guy for me," said one BlackPeopleMeet user from Ohio. "The chemistry is unbelievable. We hit it off great."
BlackPeopleMeet is part of the People Media dating network, which means it has access to thousands of dating profiles and can highlight the ones that meet your standards.
12. Badoo
Over 468 million people have joined Badoo, a social network turned dating app. This humble startup has some pretty impressive internal stats. The team estimates that its 60 million active users send over 350 million messages and make over 12 billion swipes a day. Badoo currently reaches over 190 countries and is available in 47 languages.
Black singles would be well-served by this diverse and fast-growing dating network. Badoo users can sign up for free, but you'll have to pay to activate certain Super Powers or credits, including being able to send instant messages.
Badoo highlights compatible dating profiles near you, and it also gives its users a chance for a serendipitous match in the Encounters section. You won't have to look long to find black, biracial, and multiracial singles here.
In the words of the Badoo team, "We believe there is someone for everyone. We have become the largest social discovery network in the world because we have created the best tools to connect people."
Top "Christian" Dating Sites for Young Adults (#13-14)
By and large, young adults tend to be less religious than previous generations. This isn't just an American phenomenon — it's happening in Europe, South America, and Africa as well.
However, some Christian singles do prioritize their faith and want to find someone who shares similar beliefs. That can be difficult in such an irreligious dating climate, but many Christian dating sites have risen to the challenge. We've reviewed two of our favorite Christian dating sites for young singles who desire God-centered relationships.
★★★★★
4.4/5.0
Relationships: Dates and Serious Relationships
Match System: Search by gender, age, education, more
Our Experts Say: "ChristianMingle is strictly for Christian singles, and it has a large user base that you can browse through by your individual preferences…" Full Review »
Browse Free: View Photos Now
ChristianMingle is the leading Christian dating site in the U.S. and abroad. It was designed to inspire Christian marriages and has led to many blessed encounters between devout singles.
The Spark Networks launched ChristianMingle in 2001 after seeing its Jewish dating site, JDate, thrive in the modern dating scene. This company knows how to fill a niche and meet the heartfelt needs of daters. Over the years, ChristianMingle has received glowing testimonials from couples who say their chance encounter on the dating site was meant to be.
"I never would have found my wife without ChristianMingle," said Matt in 2019. "We got engaged exactly one year to the day from the very first message!"
14. Hinge
Hinge is more than a run-of-the-mill dating app — it's a relationship app. While some apps keep young people swiping and chatting for endless hours, this app aims to get singles off that app and into committed relationships. That's what the team means when it says Hinge was "designed to be deleted."
I met my person on Hinge, so I can say for certainty it works. You can even set age and distance requirements to narrow the dating pool down to the most viable date candidates.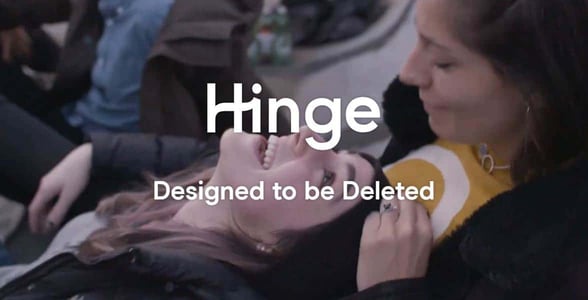 The in-depth profile setup on Hinge appeals to Christians who want to get to know someone before agreeing to a match or a date. They can read original responses to prompts like "biggest risk I've taken," "favorite Disney movie," "two truths and a lie," and "I'm overly competitive about." The profiles also allow users to share basic information, including religious beliefs and political views.
Serious daters enjoy Hinge's authentic and organic approach to love. "I prefer this to the shallow swiping on Tinder," said Brian T. in a Google Play review. "I can comment on something specific about a profile, and if they want to talk then they can. I don't have to match first just to talk."
Top "Hookup" Sites for Young Adults (#15-16)
Let's be real, not everyone in the dating scene is playing for keeps. A little over 40% of 18- to 25-year-olds said they've had casual sex with a person they'd picked up that day, and online dating has made it easier than ever to enjoy one-night stands and other steamy encounters. You don't even have to exchange names or phone numbers to make a date on the following anonymous hookup sites.
★★★★★
3.9/5.0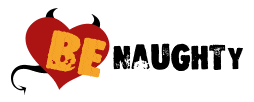 Relationships: Hookups, Chats
Match System: Search by encounter, location, and more
Our Experts Say: "BeNaughty is a premier hookup app where you can feel comfortable expressing your desires. Plus, it's free to join, browse, and flirt…" Full Review »
Browse Free: View Photos Now
BeNaughty is a legit dating site where singles and swingers can unleash their wild sides. You don't have to worry about being prim and proper here. Many naughty men and women outright state on their profiles what type of sex or kind of relationship they want.
BeNaughty also allows users to post nude photos, though it does have a blurring feature for people who don't necessarily want to see that.
Sexually active daters can lay their cards on the table on BeNaughty and find someone who has similar expectations and desires. Adults over 18 can own their sexuality while mingling here. BeNaughty has typical search filters by age, distance, looks, and other parameters, but it also has unique filters for certain kinks and fetishes.
16. DOWN
Singles looking for sex can join DOWN, a free hookup app with over 6 million users. Since its launch in 2013, DOWN has made a name for itself as a nonjudgmental, no-strings-attached platform where sexually active singles can pick up hot dates.
Young people in the DOWN community often feel liberated by the anonymous atmosphere and quick matching tools. Instead of beating around the bush, DOWN users can request to meet immediately. It's never been easier to arrange discreet encounters with local singles.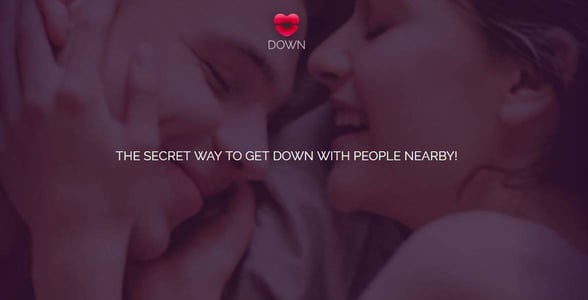 DOWN offers a private space where singles share similar priorities and intentions. You don't have to wonder if your new love connection is DTF because everyone on this hookup app is there for one simple reason: sex.
"We think a lot of singles are tired of the guessing games when they get matches on other apps," the DOWN Dating Team said. "They're struggling to learn how to date well in this brave new dating app world. We're aiming to lead the way to better dating and hooking up."
How Old Do You Have to Be to Be On a Dating Site?
Most dating sites require singles to be at least 18 years old to join the network. These sites aim to foster romantic connections between consenting adults, and they typically block underage members for obvious legal reasons. Some platforms will verify the age of members (perhaps through a social media account), while other platforms simply take users at their word.
Every dating network will have its own rules and regulations with regard to its membership. For instance, some senior dating sites only allow users over 45 or 50 to create dating profiles. SeniorMatch does not give young singles the option to join because it does not want to support cougar dating or sugar dating.
Is There a Dating Site for Under 18?
Yes, we've actually written a separate article reviewing dating sites for teenagers, but the short version is that many sites have recognized that teenagers want to meet each other online too, and they need resources to help them do so safely. Most of these dating sites screen users to ensure everyone is age-appropriate, and there tend to be strict user guidelines keeping everyone in line.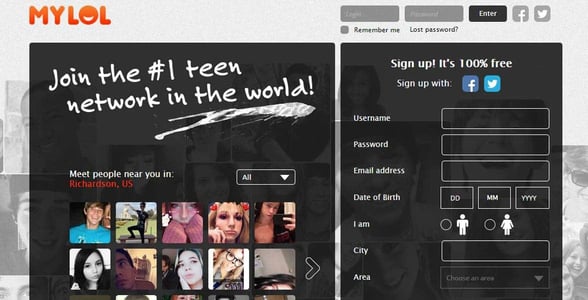 MyLOL boasts having the world's largest teen network with over 300,000 members in the U.S., the U.K. Australia, and Canada. This site has moderators tasked with reviewing every new photo uploaded on the site, and they'll delete any photo that contains nudity or offensive content. The teen chat room is also kept squeaky clean by moderators and chat bots that kick out users who are swearing at, spamming, or harassing other members.
The team urges its members, "If you see any suspicious, inappropriate, or fake profiles on MyLOL, please contact us immediately or report this user."
What Ages Use Tinder?
Unsurprisingly, Tinder users are overwhelmingly young. Over half of Tinder users are between 18 and 24, and about 85% of users are between 18 and 34. Although Tinder bans anyone under 18 from joining, about 3% of users are 17 or younger.
The Four Harvard math majors. Tinder's appeal among 20-somethings is unrivaled, and it is by far the most popular option for young online daters.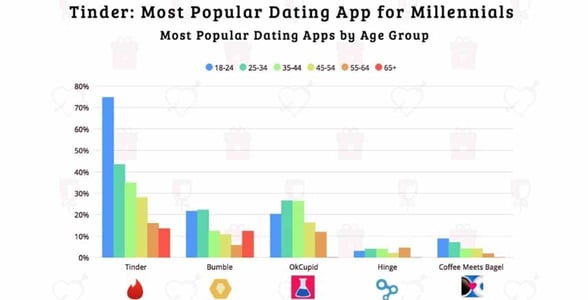 Tinder has over 50 million users, and singles of all ages have signed up out of curiosity, lovesickness, or boredom. However, millennials currently make up a strong majority on the dating app, and that doesn't seem likely to change any time soon.
Burak Berber, a Tinder user, explains, "If an app is popular for younger generation, that will probably have a dominant usage ratio in the next years. This is the effect of an emotion like longing, memory, and habit."
What Dating Sites & Apps Can You Use Without Facebook?
Many dating sites use Facebook to verify new members. It's a fast way to check your age, name, photos, and background when you sign up.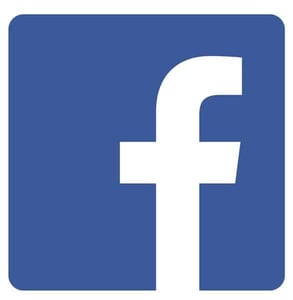 These sites and apps don't post on Facebook, nor will Facebook friends be able to see that you created the dating profile. However, some users still have qualms about linking a social media account to a dating profile — especially if they don't have said social media account.
The Cambridge Analytica scandal and #DeleteFacebook movement have led to 1 in 4 Americans deleting their Facebook accounts in recent years. What's more, fewer young people are signing up to Facebook anyway, so it makes sense to look for dating sites that don't require users to have ties to this old-school social media network. Here's a list of dating apps will work without Facebook, so you don't have to sacrifice your personal privacy while online dating.
As long as you have an email address or a phone number, most dating apps will let you create a dating profile and start mingling for free.
Live It Up on Dating Sites for Young People
A runaway marriage with a high school sweetheart may have felt oh-so romantic back in the 1960s, but marrying at a young age isn't exactly a recipe for marital bliss. A wave of grey divorces has shown that some of these 20-year-old baby boomers may have chosen the wrong partners or jumped into mature relationships before they were ready for it. Today's young generation can do better than that, and the change has already started.
Many millennials have waited to tie the knot, and they have a lower divorce rate to show for it. By the looks of it, Generation Z seems to be continuing this pattern of enjoying #SwipeLife while they're young and leaving marriage for a much later date.
Young people have their whole lives to be committed to one person, so it makes sense for them to use their single years to learn about themselves, build confidence, and meet lots of different people.
Our experts have highlighted some of the best dating sites for young people to help 20-somethings explore the online dating scene and come into their own as a young, vibrant, and single person. YOLO!