If you have an STD but are looking to date openly, a positive dating site can help.
Many people who use dating websites struggle with knowing when it's appropriate to disclose a sensitive health condition to a potential partner. Should You Include It in Your Online Dating Profile? You might want to bring it up before you actually get together. Is it appropriate to broach the subject on a first date? When would it be appropriate to bring up sexually transmitted diseases?
Free herpes dating site
If you've tested positive for a sexually transmitted disease, you're not alone. According the the CDC, about 11% of Americans (ages 14 to 49) have genital herpes. It can feel isolating, but there are communities on the web offering their unconditional support to positive singles. We've collected the top 23 positive dating websites for singles with HIV, herpes, and other STDs.
Best Positive Dating Sites (#1-6)
Online dating can support singles living with an STD and feeling daunted by the dating landscape. Positive dating websites can increase your chances of meeting a new person who's open to dating partners with sensitive health conditions. Below, we've ranked the top six positive dating websites for anyone living with an STD. These sites offer support and hope to daters looking to connect with a positive community.
1. Match
Not strictly a dating site for positive singles but still the best option, in our expert opinion, Match is the acclaimed name in the dating industry. It was founded in 1995, making it the longest running online dating site, and it's led to the most romantic connections, making it the most successful dating platform out there.
★★★★★
4.8/5.0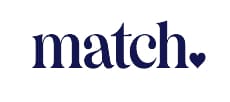 Relationships: Friends, Dates, and Relationships
Match System: Browse by zip, age, appearance, more
Our Experts Say: "Match has facilitated the most dates and relationships of any dating site, and its large audience and high success rate make it our top review…" Full Review »
Browse Free: View Photos Now
We could go on and on about Match all day, but there are two final things you really should know about the online dating site and app. Its user base is extremely large and diverse (30 million singles of every background, lifestyle, age, race, gender, sexual orientation, and location), and you won't be charged to register, add your information and photos, search for compatible people, have suggestions made for you, keep a list of favorite members, send virtual winks, and receive messages.
Match members can also send messages to the people in their Top Picks list for free, so it's possible to have a sincere conversation and build a new relationship without pulling out your credit card.
2. Poz Personals
Over 150,000 members have joined Poz Personals to meet people affected by HIV. This free dating service is the fastest-growing online community for HIV-positive singles around the world. Single men and women of all orientations can put up a personal dating profile and chat in the POZ forums, which are active 24/7.
Dozens of testimonials offer personal success stories and words of encouragement to anyone considering signing up to POZ's social network. Guy39sd wrote: "I'm with the best girlfriend I've ever had and owe it all to the site and their willingness to provide the community with a free dating service."
3. H-Date
At the top of our list, H-Date is a free herpes dating site for gay, lesbian, and straight singles. Thousands of members find solace and romance in this niche dating community. As a free member, you can send winks, share photos, and reply to anyone who contacts you.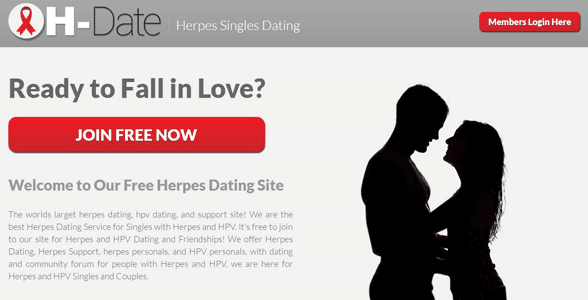 H-Date's basic membership allows daters to browse the site by interest or location to find someone special. The dating platform also sends automatic email alerts the minute another member wants to connect with you, so a heartfelt connection is just a click away. Or, if you're on the HDate dating app, one swipe away.
4. PositiveSingles
Understandably, privacy is often a top concern for daters with STDs, so PositiveSingles offers a confidential dating platform where singles can stay positive together. Since 2001, the dating site has provided singles and couples with a strong support system and friendly networking opportunities. Free to join, the site sees over 120,000 conversations and 15,000 visitors each day.
"We are completely head over heels in love with each other and the ONLY reason we met was because of this website… I found the love of my life because of my condition and your website." — A testimonial from a PositiveSingles Member
With over 1.2 million members, PositiveSingles prides itself as the largest herpes and STD dating community on the web. Some of the site's unique features include a live dating advisor, personal treatment stories, and a personalized STD Q&A forum. You can read over 2,000 success stories from members who found love on PositiveSingles.
5. OneNightFriend
OneNightFriend is a casual hookup site that recently launched to offer a nonjudgmental space for today's sexually active online daters. The dating pool consists of single adults who are looking for casual flings and sexual experiences, so they typically don't shy away from discussions about STDs and pregnancy prevention.
★★★★★
4.0/5.0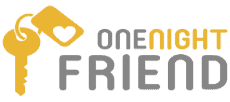 Relationships: Hookups, Casual Dating, Chats
Match System: Search by location, age, and appearance.
Our Experts Say: "OneNightFriend is a dating website that provides a fast track to a one-night stand with a flirty partner. The network has chat rooms, search filters, and safety features to help spark real connections…" Full Review »
Browse Free: View Photos Now
If you're looking for a one-night stand, then OneNightFriend can be a good wingman. Exploring this sexy chat room can be liberating because the single people here are upfront about their intentions and expectations for a potential partner.
6. PozMatch
HIV-positive singles from all walks of life can use PozMatch to get a date. The motto of the dating platform is "Bringing hearts together since 1998," to emphasize its longevity in the dating industry. PozMatch has been around so long for a reason — it's an effective way for HIV-positive singles to meet one another.
Whether you're looking for friendship, love, or companionship, this top-rated STD dating site welcomes everyone open to dating people who live with HIV, and we've seen evidence that it works.
"I met the guy of my dreams through PozMatch, and it has put a very happy ending on my story," Doug wrote in a testimonial. "If it wasn't for HIV and PozMatch I never would have met my soulmate."
Best HIV Dating Sites (#7-12)
More than 1.2 million people in the US are living with an HIV infection. The disease disproportionately affects gay and bisexual men, who account for 82% of HIV diagnoses in men, especially those who are sexually active.
The disease is spread through sexual activity, so contracting HIV can be a crushing blow to a person's love life. However, testing positive for HIV doesn't mean you have to live a life of celibacy. There are niche online dating communities that accept HIV-positive singles and raise awareness about safe sex. We've highlighted six of the top HIV dating websites for people of all orientations.
7. HIVDating4u
If you're looking for a dating site for HIV positive singles, HIVDating4u certainly fits the bill. This user-friendly platform puts quality first when it comes to HIV dating. A strict anti-fake policy ensures that all members are validated as real before joining the site. That way, everyone practices safe online dating.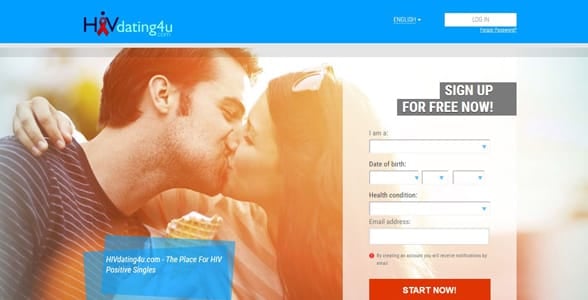 HIV Dating4u is one of the most popular HIV-positive dating websites in the Scandinavian region with a growing international membership. Members come to the HIVDating4u network from around the world, including Norway, Sweden, Denmark, Finland, South Africa, the US, and the UK.
8. HIV Mingle
Singles with HIV can join HIV Mingle to meet others in the same situation. Thousands of daters use this safe and anonymous HIV dating community to find friendship, relationships, and general support. Because many members of HIV Mingle are sensitive to privacy issues, a dedicated team works tirelessly to ensure the dating website remains completely safe, anonymous, and secure.
No matter what your skin color, country of origin, or sexual orientation, singles with HIV are always welcomed on HIV Mingle.
9. HIVDatingOnline
On HIVDatingOnline, singles don't have to feel embarrassed about being HIV positive — because everyone else is, too. In a positive dating atmosphere, HIV+ singles can be open about their experiences, using live chat tools to strike up a conversation on the web. With a basic membership, you can browse the dating site, view profiles, send flirts, and edit your profile for free.
Over the years, HIVDatingOnline has helped thousands of people make worthwhile connections. "I met a wonderful lady on your website," wrote rjohnson1682 in a testimonial, "which I believe is one of the best HIV dating websites out there."
10. Ashley Madison
Better known as an affair dating site, Ashley Madison ranks on our list of popular STD dating sites because of its standout commitment to privacy and anonymity. Ashley Madison allows users to blur or hide their faces in photos so they feel more comfortable sharing their stories and connecting with new love interests on their terms.
★★★★★
4.0/5.0
Relationships: Hookups, Casual Dates, Affairs
Match System: Search by age, location, appearance, and more
Our Experts Say: "With its massive user base and advanced privacy features, Ashley Madison is the #1 site for discreet hookups, dates, or relationships…" Full Review »
Browse Free: View Photos Now
Ashley Madison has all the typical bells and whistles of a dating app or dating website, plus some added features to keep user's secrets. A free membership includes unlimited chatting for all female users, and men have some communication options available for free as well. The app's location-based matching algorithm helps you find compatible date prospects in your neighborhood. Ashley Madison keeps you connected to a vibrant dating community of sexually active people.
11. HIVPeopleMeet
Known as the leading dating site for people with HIV, HIVPeopleMeet.com has over 800,000 members of all orientations. You can create an anonymous profile and check out an active dating pool of HIV-positive men and women. The HIV dating site encourages users to share their thoughts and experiences without shame, bonding with others who have gone through similar ordeals.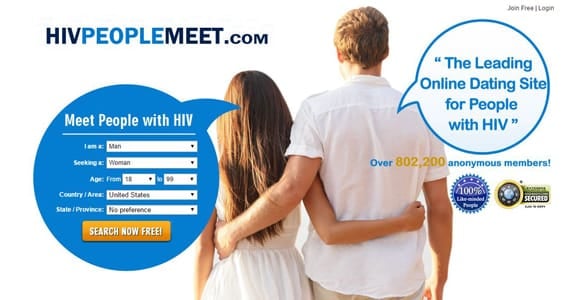 Many members find comfort and solidarity in the STD Treatment Stories section where over 500 testimonials about what it's like to live with HIV, HSV-2, Thrush, and other STDs.
12. HIV Passions
HIV Passions brings all the functionality and connectivity of a mainstream dating site to a niche audience of singles. Online daters diagnosed with HIV can join the site to enjoy a judgment-free zone surrounded by like-minded people. The HIV+ personals and free chat opens up a world of possibilities to gay, lesbian, and straight daters who have tested positive for HIV.
You can use the HIV Groups to find date prospects who are newly diagnosed or longtime survivors. Overall, HIV Passions emphasizes that being HIV positive isn't the end of your love life — you can meet new friends and love interests in a community of HIV singles.
Best Herpes Dating Sites (#13-20)
If you're living with Herpes Simplex Virus (HSV-1 or HSV-2), it's a painful situation. You can't exactly hide cold sores on your mouth or private parts, but the sight could be an instant dealbreaker for people who don't want to catch a sexually-transmitted disease.
Having herpes doesn't have to cramp your love life though. Daters with genital or oral herpes can date one another without shame. There's no need to be squeamish or embarrassed when you both have the same virus. On a herpes-positive dating site, you can meet people who aren't turned off by cold sores and can appreciate the challenges of dating while living with an STD. We recommend these positive dating communities for people with herpes.
13. MPWH
MPWH — or Meet People With Herpes — has made thousands of matches for positive singles. The dating site and app boast a safe and stigma-free environment for online daters across the U.S. It's free to sign up (or download the app) and start meeting new people who understand what you're going through.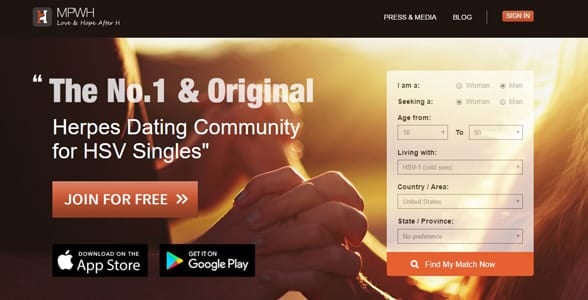 From the informational blog to the members-only forums, MPWH offers an inclusive and warm-hearted dating community for singles living with genital herpes and oral herpes. HSV singles of all races, religions, sexual orientations, and genders can mingle on the site anonymously to find support and love.
14. HSVSingles
On HSVSingles, thousands of singles are actively looking to date someone who has HSV. Since 2006, the site has supported men and women with HSV and given them a chance to fall in love online. HSVSingles facilitates live connections via instant messages, audio and video chat rooms, and discussion forums. The rapid signup process allows you to join the site and meet that special someone without delay. All profiles on HSVSingles are verified as real, so you can mingle with confidence on this secure and private platform.
15. HerpesPeopleMeet
Made by the same people who created HIVPeopleMeet.com, HerpesPeopleMeet taps into a vast network of singles to help daters with herpes connect on the web. The international site's diverse community includes different age groups and ethnic backgrounds, which you can narrow down using advanced search tools. You can join for free to see if this niche dating site is for you.
"We are all about helping you find your dream date! By joining our Herpes dating community, you will be able to open the doors to a fruitful dating life." — HerpesPeopleMeet.com
Singles with herpes join HerpesPeopleMeet to meet people, make friends, get a date, or find a long-term partner. According to the site, the HerpesPeopleMeet community "is different because this community believes that you deserve a date as much as anyone else!"
16. Hope
Singles with herpes don't need to lose hope when they can join Hope, a free dating website geared toward daters with STDs. Whether you have herpes or you're open to dating someone with herpes, Hope offers a supportive global network with simple chat and video tools. Over 40,000 singles have found a fresh start on the site and app. Every dating profile is personally reviewed and approved within 24 hours of creation, ensuring every member is the real deal.
In addition to the 100% free dating service, Hope offers motivational and personal stories to get daters out of their funk and encourage them to never give up hope.
17. Stoodin
Launched in 2015, Stoodin is a fast-growing dating site for singles with HSV-1, HSV-2, and other forms of herpes. The site's mission is to provide a safe, healthy, and caring network of available singles with unique health concerns. Advanced search tools allow online daters to scan a health-conscious dating community for that perfect match.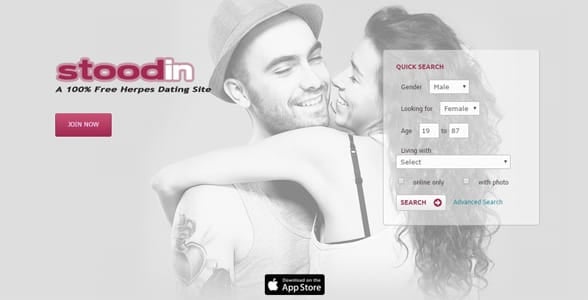 A state-of-the-art matching algorithm helps singles find an ideal partner with whom to share a chat or a laugh. The community forums are a popular place to raise awareness, offer support, and find solidarity among people with herpes. As a whole, Stoodin is judgment-free and easy-to-use so nothing stands between you and a hot date!
18. HSVDate
Free to join, HSVDate provides a streamlined dating network for singles with HSV or HPV (Human Papillomavirus) as well as any compassionate singles willing to date someone regardless of such a health condition. This free site has a niche membership base and is always expanding to serve a global community of people with HSV or HPV. Many positive reviews praise the detailed profiles and interactive live-chat, messaging, and match features on the site.
19. Herpes Passions
The Passions Network operates a variety of niche dating communities that are free to join. On Herpes Passions, people who have tested positive for Herpes can feel at home on a friendly dating platform tailor-made to singles facing the same diagnosis. The dating site comes inclusive with free chat, message boards, and a private inbox for flirtatious emails.
"Based on statistics, you're pretty likely to meet people with herpes on any dating site you join, but on this one, people know about it ahead of time." — Herpes Passions
This herpes-focused social network is useful to singles who find it difficult to date because of a highly personal medical condition. Whether you're looking for love or emotional support, Herpes Passions is a great place to find people who have at least one thing in common with you.
20. Herpes Mate
On HerpesMate.com, daters with STDs can find information, support, friendship, and romance in a free online community. The dating site caters to singles with health concerns by offering support forums, live counseling, positive blogs, and other helpful resources. It's free to sign up to the site and search for local dates. When setting up your profile, you'll choose your specific health condition from 13 drop-down options and let people know what you're dealing with. HerpesMate lets users search by STD so daters with Chlamydia, for instance, can find one another with a simple search.
Best Dating Sites for Other STDS (#21-23)
Finally, we've compiled three great dating websites for singles with general STDs. You can take your pick. It doesn't matter what you test positive for — the following sites welcome all singles coping with sexually-transmitted diseases.
21. STDPassions
A trusted STD dating site since 2001, STDPassions is a dating site and app for singles living with Herpes, HPV, AIDS, and HIV. It's free to browse the site for potential matches. Once you sign up, STDPassions will protect your privacy and personal information while connecting you to a network of like-minded people.
On STDPassions, no one is judged for testing positive for sexually-transmitted diseases. Meeting new people and making strong bonds is easy on such a friendly dating platform, which is powered by the larger Passions Network.
22. Adult Friend Finder
Adult Friend Finder is a hookup dating website designed to help singles of all types, including those with STDs, meet and mingle as they choose. The hookup site's erotic blogs, photos, videos, and profiles give users plenty of ways to connect. On this lively site, a sexy person is bound to catch your attention.
★★★★★
3.5/5.0


Relationships: Hookups Only
Match System: Search by location, interest, more
Our Experts Say: "Make no mistake: this site isn't about making friends, it's about short-term "hookups" and affairs only. Note that a basic account costs $14.95/month, but it's well worth it if casual sex is your goal…"
Browse Free: View Photos Now
It's free to search through the personals of AFF members from around the world, and users can browse under a nickname or username to keep their identity secret.
If you like what you see, you can upgrade to the paid membership to start chatting with single men and women who are honest and straightforward about their STDs.
23. Meet Positives
What's the upside of Meet Positives? You never have to have "the talk" again! That's the promise the website makes to singles with STDs. On this non-discriminatory dating site, your dating profile will let daters know upfront what condition you're living with. Men, women, and couples of all orientations can sign up within seconds and find a match on Meet Positives.
Meet Positives is a mobile-friendly with a 24/7 support team ready to assist with any issues that arise. Innovative compatibility dimensions on Meet Positives help singles find a match with long-term potential and no qualms dating a man or woman with an STD.
On Positive Dating Sites, Your Health Won't Impede Your Love Life
Joining a dating site full of people with similar health conditions can be a liberating experience for daters who are tired of keeping their STDs a secret.
Daters with STDs don't have to hide in shame on these positive dating websites. There's no need to feel embarrassed when you're surrounded by like-minded people who know exactly what you're going through. Dating websites for STD-positive singles are working to remove the stigma from these sensitive medical conditions and bring hope to singles living with herpes, HIV, and other STDs.
Whether you're in search of a sympathetic friend or a sexually active partner, our 23 dating websites for positive singles can help you match with a local date who accepts you and your diagnosis without judgment. Good luck!