Here is the quick list of my top five dating sites in the Dominican Republic. I'll go into more detail in my reviews later in this article.
When I first traveled to the Dominican Republic back in 2007, online dating wasn't much to speak of. You had a couple of websites, but they didn't have enough members to make it worth investing time in.
Today, the situation is completely different. Online dating in the Dominican Republic (dating via either your desktop computer or a smartphone app) is incredibly popular.
Dating sites in dominican republic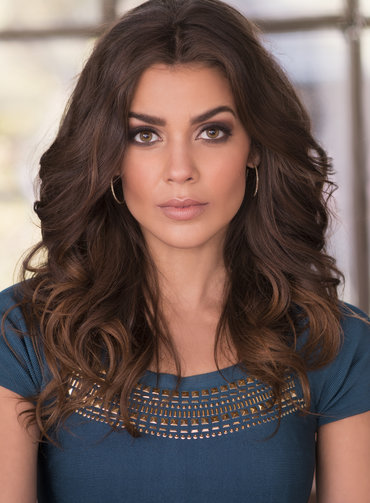 Just like in many Latin American countries, the majority of Dominicans still meet their romantic partners via the tried and true methods, such as mutual friends, organizations, work, school, or church, etc; however, this online dating is very much mainstream. This is particularly true in the major cities like Santo Domingo and Santiago and around the tourist zones of Punta Cana, Puerto Plata, and Sosua.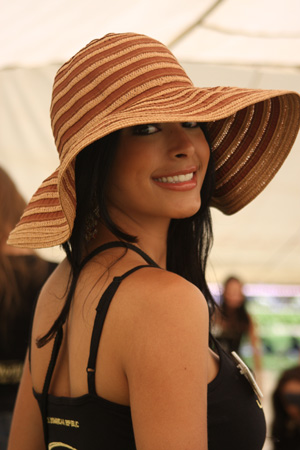 Dominicans are beautiful. I would put them in the same category as Brazilians or Colombians. You will definitely find stunningly attractive women and men. The potpourri of skin tones (due to the centuries of interracial mixing between the Spanish and Africans) provides some impressive eye candy.
Ok, let's get into my my detailed reviews of the top five dating sites and apps in the Dominican Republic (or the "DR" as a lot of foreigners like to call it).
If you've got time to sign up for only one site, DominicanCupid should be the site you sign up for. It is part of the Cupid Media family that owns sites such as ColombianCupid, BrazilCupid and Afrointroductions (sites that I've used in the past). I actually met my wife on the sister site Brazil Cupid, so I can tell you that Cupid Media sites work.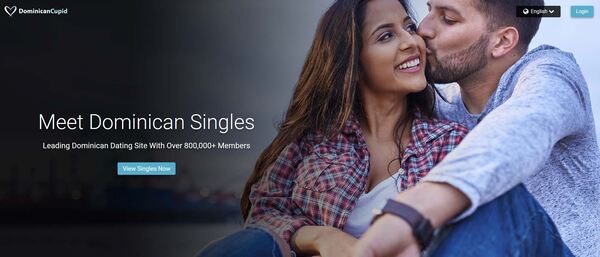 DominicanCupid was launched in October 2006 and has a user base numbering in the thousands – fairly small compared to many other dating sites, but reasonable size considering the small population of the Dominican Republic. DominicanCupid is primarily geared towards helping North American men meet Dominican women.
DominicanCupid's clean website and strong features will be pleasantly familiar to those who have used other Cupid Media sites. All-around, though this is a small site, with a targeted niche, it does its job well. If you're looking to meet singles from the Dominican Republic, this is where you want to be.
Sign up Process
DominicanCupid has one of the fastest signups I've come across. To start, just provide your name, gender, email and a password. You can also sign up with your Facebook account which is considered more trustworthy by the website and will help ensure your profile is not suspended for a verification check.
After that, briefly describe yourself and your ideal match, and that's it. At this point, you can either finish your profile, or just start browsing the site. If you elect to leave your profile unfinished for now, it's worth mentioning that at times you will be prompted to answer a couple more questions about yourself before being able to continue.
How to Locate Potential Matches
Looking for matches is flexible to your tastes, with four display options (Photo View, Basic View, Detail View and Profile) and four order options (Newest Members, Photos First, Last Active, and Relevance). You can also customize your searches, searching by age, location, and education, body type, ethnicity, lifestyle choices (smoking, drinking, etc.), marital status, whether they have kids, religious views, even their star sign.
How to Communicate with Other Members
Messaging options as a Standard member are nothing to write home about. You can "send interest" and add to favorites, which is useful in opening the potential communication and getting your profile noticed.
However, in order to move to actual conversation, you'll need to upgrade to a Gold or Platinum membership. Once you do, you'll have Instant Messaging, audio and video chat at your disposal, and you can message whomever you like.
So while the lack of useful features as a Standard member is irritating, at least if/when you do upgrade, you are adequately rewarded. Video chat alone has saved me from many disastrous dates.
Unique Site Features
One of the strongest features of DominicanCupid is the detailed profile. Beyond your basic information, you have the option to share hobbies/interests, answer questions about your personality, and add CupidTags, which are personalized keywords to describe yourself, make your profile more easily searchable, and better match with other profiles.
Finally, you can also verify your profile by uploading a copy of an official document such as your passport, driver's license, or national ID card. Doing so enables DominicanCupid to verify details like your name, age, gender, etc., which sets you apart as a serious and trustworthy profile.
What is Included in Each Membership Level
Standard – Create profile, upload multiple photos, browse, search, and send interest to profiles, communicate with paying members
Gold – All of the above, plus: Unlimited communication with all members (including audio/video/IM chat), no ads, hide your profile for incognito browsing
Platinum – All of the above, plus: Better search rank for your profile, double the profile space, access to advanced matching algorithms, message translation, VIP profile highlighting, extra search features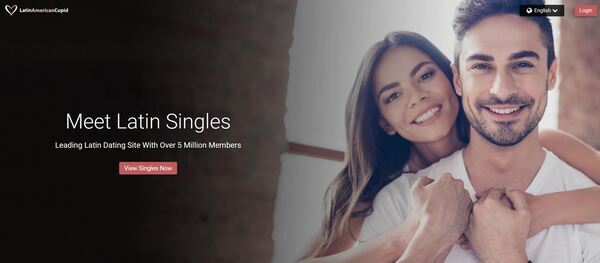 Latin American Cupid has been up and running since 2003. It is a solid option for the Dominican Republic, but, like any site, you will have to weed through some scammy profiles asking for help and money. I find that those profiles are easy to spot, and Latin American Cupid does a pretty good job of keeping the riff-raff out.
Sign up Process
Unlike other dating sites that make you jump through a lot of hoops just to view profiles, this site is easy and takes about 5 minutes, if that. Enter valid information like your name, email address and a short description about yourself and who you are looking for, and you're set.
Your profile isn't going to be complete, but at least you can start browsing. With Latin American Cupid, you will find there is a lot of information they ask from you, but you don't need to fill it all out in one setting.
How to Locate Potential Matches
Now that you are set up, start browsing the profiles. You can browse by age, photos, relevance, and so many other options on this site. Don't get overwhelmed by the amount of people on the site. Browse through a few a day, and remember that you don't want to settle for just anyone. Patience and persistence is key.
How to Communicate with Other Members
Unfortunately, like many other dating sites, the only way to get into the dating scene and meet people is to upgrade to a premium membership. Without one, you can't really send any messages or save profiles of potential matches. However, if you do choose to stay a free basic member, you can still sort through profiles and show interest in someone, but that is as far as it will go.
A premium membership is the way to really get to know someone, chat with them, and possibly meet for coffee.
Unique Site Features
The one unique aspect of this site is its ability to incorporate language translation. Although it isn't exactly up to par, it works well enough to understand what the other person is saying without having to leave the site to translate the text.
There are a few members that can speak broken English, but it is best to utilize Google's tool just in case you want to video chat. Plus, signing up for this site will help you learn a new language if you don't already know Spanish, which is a big plus.
What is Included in Each Membership Level
Standard – Create profile, upload photos, create customized searches, send interest to anyone, communicate with Gold/Platinum members
Gold – All of the above, plus: Unlimited messaging and communication with other profiles (text, audio, video, Instant Messaging), ad-free browsing, invisible browsing
Platinum – All of the above, plus: Rank above other members in searches, doubled profile space, VIP profile highlighting, platinum-exclusive search features, advanced matching algorithms, message translation
A massive worldwide online dating site launched in 2006, Badoo will be an OK option for the Dominican Republic if you really want to put in the time to send out a lot of messages (a good number of the profiles don't appear to be real). The quality though is not as good here, and the most attractive people will get bombarded with messages. Your message will most likely get lost in the mix.
Give it a try though if you run out of options on the sites above.
Sign up Process
To sign up, fill in your basic information like name, date of birth, gender and location, or you can connect via your Facebook account or one of your email accounts. Badoo also asks you your reason for wanting to join Badoo, giving you 3 options: Make friends, chat with others, or find dates.
Next, Badoo asks if you want to link your Badoo account to your Twitter account, and if you want to import your list of friends from your email account. Once that's all sorted out, you can start browsing profiles.
How to Locate Potential Matches
To find a match, you get two basic options: Encounters is one and the other is People Nearby. With Encounters you get just one profile to view at a time, to Like by a click on the heart, or dismiss with an "X" before you get to view the next profile. The site notifies you when a mutual match is found.
People Nearby is a typical browsing feature, letting you scroll multiple profiles, all located near you.
How to Communicate with Other Members
With either Encounters or People Nearby, all you do is click on a profile to view a member's photos, have a text-only chat, add to your Favorites, or you can send a gift to them.
To see a member's personal info, you must create a profile of your own. To see where they're located, you must activate location services on your laptop or mobile device.
Badoo also lets you see who Likes you back, but not until you invite friends from an email account. I thought this was strange actually. Had I wanted to invite friends to join Badoo, it would have made more sense to invite them using my Twitter or Facebook accounts.
Unique Site Features
Badoo looks elegant and polished as it should since it is certainly one of the most widely used websites in the entire world. Although you provide quite a lot of information on your profile, there really is no way for sharing updates like you can on Facebook and Twitter.
At times Badoo does seem like a social networking site because you're able to upload photos and videos to flush out your profile. However, in practice, it is much more of a dating site.
Badoo emphasizes popularity and the ranking of profiles as seen by how many members Liked a particular profile out of all visitors. I also found it interesting that members can pay if they want to be view by more people.
What is Included in Each Membership Level
Free – Sign up, create a profile, browse, favorite, and chat with other users
Platinum – You see the most popular members in Encounters, your profile is shown more often in People Nearby and in Encounters, includes all Super Power features
Super Powers – See who wants to meet you or who favorited you, undo previous votes in encounters, invisible browsing, chat with new users and most popular users
Paid Features – Rise up in People Nearby, be shown more in Encounters, be featured in local searches, send stickers in chat, send "gifts"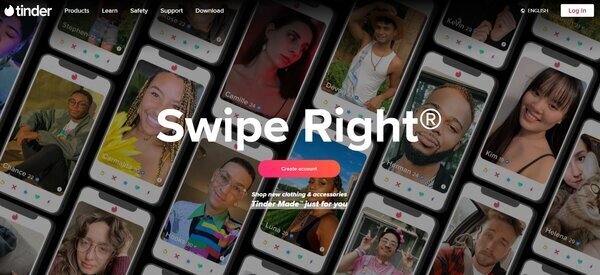 Tinder is perhaps the most famous dating app in the world. With millions of users, there isn't any reason to feel ashamed about swiping on Tinder.
The app uses your geographical area to locate matches in a specific area. Download the app, select the age range you're interested in dating and then it's all about swiping, matching, and messaging your next hook up or true love.
Sign Up Process
Registering on Tinder is quick and simple. All you'll need to get started is a Facebook account, phone number, or Google account and five minutes of your time.
Login with Facebook OR Phone Number
Fill out profile information
Allow Tinder to access all required permissions
Start swiping
When registering with Facebook, Tinder will input your name, age, and profile picture. It will even geolocate you and automatically complete your profile information. Of course, you'll have the ability to add other photos and adjust your distance range, and other various settings. While the sign-up process is easier than most other dating apps, be cautious as this allows for more potential "fake accounts".
How to Locate Potential Matches
Once you've registered you can start swiping from your "card stack". When browsing profiles, you can check out a member's age, shared Facebook friends, and common interests.
Want to know more about the member you're looking at? Tap the "I" button underneath or tap on the photo. This will show you just how far away your future love is or any other information about them that you might be wondering. Swipe to the right for yes – if you've mutually swiped with someone else, a match has been made.
How to Communicate with Other Members
Tinder only allows you to communicate with a match made by both parties swiping right. Within the app, you are notified when matches are made but not about those who pass on you. Get the conversation started with a fun GIF or Bitmoji to spice things up!
Unique App Features
The basic membership allows members to Superlike a profile they like which tells the other party someone is VERY interested. Smart Photos tracks the popularity of specific photos and puts the most popular photos first.
While swiping for a casual date partner or a hook up, you may want to consider connecting your Instagram or Spotify account to highlight additional pictures or your favorite bands.
What is Included for Each Membership Level
Wanting something more? Just upgrade to a GOLD or PLUS account. These upgrades include features such as Likes You, Passport, Rewind, Boost, Super Boost, and even Read Receipts.
Here's a look at what you'll get with each level.
Tinder Plus
Unlimited likes
Rewind
5 Super Likes each day
1 Boost a month
Passport
Tinder Gold
This membership features ALL the features of the PLUS membership and includes:
See who likes you before you swipe right or left
See new "top picks" each day
I put OkCupid on this list as a last resort option. It is an old site and not nearly as effective as it was when it first came out. Sign up for OkCupid only after you have exhausted all your options above.
How to Get Started
The first thing you should do is book a flight to the Dominican Republic if you're not already inside the country. Once you've done that, sign up for one of the dating sites I've mentioned above.
If you need help on how to set up a profile, what I recommend writing for your initial and follow up messages, when to ask the woman/man you're interested in to go offline for a date, etc., check out my e-book, Online Dating Success: How to Find Love Anywhere in the World.
Good luck out there! And remember that dating takes time…patience and persistence will get you the results you're looking for.
Useful Phrases in Spanish:
Hola, ¿Cómo estás? – Hi, how are you?
Me llamo… – My name is…
¿Cuál es su nombre? – What is your name?
¿De dónde eres? – Where are you from?
Yo soy de los Estados Unidos. – I am from the United States.
¿Hablas Inglés? – Do you speak English?
¿Qué te gusta hacer para divertirte? – What do you like to do for fun?
¿De verdad? – Oh really!?
¿Tienes hermanos o hermanas? – Do you have any brothers or sisters?
Tu eres bonita. – You are really stunning.
Me gustas mucho. – I like you a lot.
Vamos a salir este fin de semana. – Let's go out this weekend.
¿Estás libre a las 7 de la tarde? – Are you free at 7 o'clock?
Qué bueno!! Gracias. – Cool! Thank you.
¡Qué genial! Hasta Luego. – Great! See you later.
Adiós – Bye.
Further Reading