Divorced dating sites cater to men and women who have loved and lost, but are still willing to pick themselves back up and try again. That takes great courage and guts, and sometimes it leads to a remarkable change in lifestyle.
I've seen many family members, friends, and co-workers who've go through a divorce — some in their early 20s and others as they're approaching retirement — and it's always an unfortunate and difficult situation with a lot of tangled emotions. After a divorce, everyone moves on in different ways. Some people focus on their careers or children and give up on dating, while others prefer to dive back into the dating scene to try to meet someone new as soon as possible.
Dating sites for divorced
Online dating can help divorced singles move forward without putting too much of themselves out there, and many niche resources our there can cater to their needs. We've highlighted the top 12 dating sites for divorced people. These dating apps are free, fun, and beginner-friendly, so nothing has to hold you back.
BEST
OF

Match may not be a divorced dating site, per se, but it's the best dating site for meeting a new person who is mature and looking for something serious. Match is the largest and most reputable site in the online dating industry, so you won't have any trouble finding compatible singles who can relate to where you are in life. Over 75% of Match members are over 30, and more than half have children from a prior relationship. It's free for a divorced single to create a profile on Match, and the dating site also has some limited free communication features to help you break the ice and see what's out there.
BEST
OF

We would direct divorced singles, especially those looking for a serious relationship, toward eharmony — it's a great for easing back into the dating pool and building authentic relationships. The eharmony match algorithm prioritizes profiles with the highest compatibility rating in terms of age, location, lifestyle, and values. And if you're on the fence about it, eharmony has a free membership that never expires, so get a feel for it to see what you think.
BEST
OF

EliteSingles blends together some of the best aspects of the top dating sites — 82% of its members have more than a high school degree (either a bachelor's, master's, doctorate, or a combination of the three), it's 100% free to create an account, search profiles, and flirt, and about 2,500 members find love on the site every month. If your date's level of education is important to you, EliteSingles can meet your expectations by taking online dating to another level. Divorced parents can even filter matches based on attitude toward children, and they can find plenty of free dating advice on the platform.
BEST
OF

JustDivorcedSingles operates under the motto, "it's dating just for you." On this divorced dating site, it's free to sign up and browse profiles (which are all checked by the team), and the mobile-friendly features work just as well on your desktop and your smartphone. No apps required. The only personal information you need to provide is your gender, age, and email address. JustDivorcedSingles has dozens of success stories, including Carl and Catherine who said, "I found the love of my life with just a wink — can't thank you enough!"
URL: http://www.justdivorcedsingles.com/
BEST
OF

DivorcedFreeAndSingle is one of the best dating sites for divorced single people. It exclusively serves the divorce community, and offers features to help users find a new serious relationship and build a marriage foundation. It doesn't cost anything to create an account, input your personal information and photos, search for potential matches, and communicate, and the customer support team works around the clock to make sure every divorced mom stays safe throughout the process. If you're ready to "give love a second chance," DivorcedFreeAndSingle is a great choice.
URL: http://www.divorcedfreeandsingle.com/
BEST
OF

OneSinglePerson calls themselves "the trusted online dating site for divorced and widowed singles," and they make their case by saying 90% of divorcees use the site to find love, with 50,000 new members joining every day. Once you register with a standard account, you'll have all the features you need to find that perfect match — and you won't have to spend a dime to attract a man or woman in your city. OneSinglePerson gives a divorcee the opportunity to meet like-minded dates and search near and far for potential partners, and that can make all the difference in the world.
URL: http://www.onesingleperson.com/
BEST
OF

Not only is DivorcedAndSingle a popular divorced singles dating site, but it's also very affordable for single mums and dads. You can make a dating profile, use the search and Encounters tools, add members to your Favorites list, and send out introductions to people who catch your eye — all without having to input any kind of payment information. This divorced dating site's intuitive interface means you'll soon be chatting with viable date prospects.
URL: http://www.divorcedandlooking.com/
FAQs: What's the Best Dating Website for a Single Parent?
Being divorced is tough enough, but being divorced with kids is definitely one of the trickiest positions a single person can be in. Maybe you've healed and you're ready to find a romantic partner for your life — but you have to ask yourself if your children are ready and how you will integrate a new person into your family dynamic. Plus, not every single you meet on a mainstream dating site or app will be up to playing the role of stepdad or step mom, so you could waste time going on dates with a person who isn't serious.
Dating as a single parent is undoubtedly challenging, but some mature dating sites aim to make it easier. Match.com gives singles the option to state if they "have children" or "want children," and they can use advanced search filters based on this potential match criteria.
★★★★★
4.8/5.0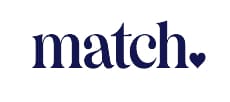 Relationships: Friends, Dates, and Relationships
Match System: Browse by zip, age, appearance, more
Our Experts Say: "Match has facilitated the most dates and relationships of any dating site, and its large audience and high success rate make it our top review…" Full Review »
Browse Free: View Photos Now
All in all, Match is the best dating website if you're a single mom or single dad hoping to meet compatible singles who are around your age, live in your area, and want the same things you do in terms of love and family.
Which Dating App Can Help Me Get in a New Relationship?
Many online dating apps offer date opportunities and chat windows that are initially exciting, but the romance can quickly fade as people constantly search for a hotter match in the swiping scene. Singles who are looking for a serious relationship and marriage are better off deleting casual hookup apps like Tinder and downloading a more quality-driven dating app like eharmony.
★★★★★
4.7/5.0

Relationships: Casual Dates, Deep Relationships
Match System: Personality test suggests matches
Our Experts Say: "Accounting for 2% of U.S. marriages, eharmony's compatibility-based system and commitment-minded user base are ideal for those seeking a serious relationship…" Full Review »
Browse Free: View Photos Now
In 2000, eharmony made its mark on the dating world by using psychology and technology to create a sure-fire path to love. The dating website got its name because it was designed to bring harmony to relationships and spark meaningful connections that would last a lifetime.
So far, eharmony has led to over 2 million relationships in the U.S., and it creates a new match every 14 minutes.
What is PlentyOfFish?
PlentyOfFish is an online dating site and app with free messaging features and matchmaking tools. Over 150 million people have joined the POF community since its launch in 2003, and the platform sees over 4 million daily active users.
Many dating experts have deemed PlentyOfFish to be the best dating app for conversations because its users send over 1 billion messages sent each month.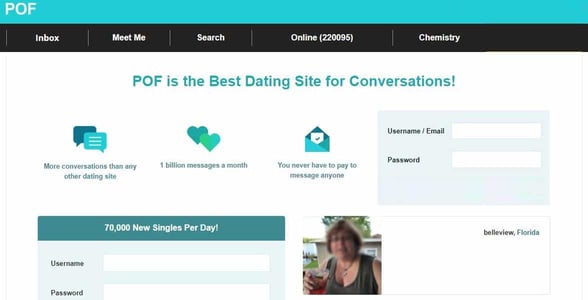 No matter what your relationship status is, you can use the PlentyOfFish network to start meeting new people and dating again.
PlentyOfFish doesn't charge members a single penny for sending likes and messages, and the only limit is that you can only send 55 unsolicited messages in a single 24-hour period. Divorced singles can use this free chatting zone to put their online dating skills to the test and practice flirting with strangers online. Who knows? If you play things right, you may even pick up a first date.
How Does JDate Work?
JDate is a Jewish dating site that helps men and women date within their faith. Our JDate review goes into more detail about why this dating platform has been so successful and popular in the Jewish community, but the biggest takeaway is that you won't find a Jewish dating service with a larger membership base or more affordable dating tools.
Is There a Divorced Dating Service for Seniors?
Yes, if you want to build a relationship with an older man or an older woman, then a senior dating site like OurTime has you covered. This online dating site has a robust over-50 membership and easy-to-use interface that makes it easy to turn matches into conversations and real-life dates.
OurTime's motto is "now is your time," and that appeals to divorced people who are in their golden years and have recently changed their marital status. Singles can seize the day on this dating site, and they don't need to pay a subscription fee to get the lay of the land.
★★★★★
4.3/5.0
Relationships: Dates and Relationships
Match System: Search by profiles by zip and more
Our Experts Say: "OurTime is well-known in the over-50 dating crowd, particularly because it has a ton of helpful search features and an easy layout…" Full Review »
Browse Free: View Photos Now
Single men and women can face plenty of challenges and obstacles in the dating world, but their advanced age doesn't have to one of them. A senior dating site like OurTime can help older adults come into their own and meet a potential mate who's in the same stage of life and looking for companionship.
OurTime offers a free basic membership to all new users, and you can always upgrade if you see someone special and want to get in touch by sending a private message or virtual gift.
Can a Dating Site Help Single Dads Cope After Divorce?
A divorced dad can sometimes feel intimidated or overwhelmed by the modern dating scene, especially if they have custody of their children, but it's not all that scary once you get some experience on a reputable dating site or app.
The online dating world is full of opportunities to connect, learn, laugh, and grow, and that can be a wonderful experience for a divorced man who knows what it's like to have loved and lost. A man can make a new beginning with a single woman on the dating site, and sometimes that new relationship is enough to end all the pain and bitterness leftover from a divorce.
Which Divorced Dating Sites Really Work?
We've listed several popular dating sites that can help a divorced man or a divorced woman get over their marriage and make a new romantic connection. Sometimes those matches last for a day of conversation, a few weeks of dating, or a lifetime in a committed relationship. It's up to you to use the search and matching tools to shape your own dating experience.
A reputable dating site like Elite Singles will have the back of a divorcee seeking a serious relationship or marriage. This upscale platform caters its dating service to ambitious and well-educated singles over 30, and many of them are divorced or willing to date a divorced person.
★★★★★
4.7/5.0
Relationships: Serious Relationships
Match System: Search, Receive Partner Suggestions
Our Experts Say: "EliteSingles is a leading dating site just for busy, single professionals. More than 80% of members have earned a college degree, and most are looking for a serious commitment…" Full Review »
Browse Free: View Photos Now
Elite Singles can find you a potential partner who lives up to your dating standards and has a lot to offer in a new relationship or family.
A single person can instantly improve their dating pool simply by getting a free account on Elite Singles, which, as you can tell by its name, settles for nothing less than the best.
Why Is It So Hard to Date After Getting Divorced?
I'm going to level with you — dating is hard for pretty much everybody, regardless of their relationship history or marital status. Single people have to overcome the fear of rejection, self-esteem issues, social pressures, and an array of other challenges just to put themselves out there in the dating scene — and then they could get ghosted or stood up for their trouble.
If you've gone through a divorce, then you know a whole new level of hurt, so it can be difficult to trust a person and let him or her into your life. Maybe going on a first date fills you with doubts and anxieties, and you have visions of divorce lawyers and alimony payments zipping through your head.
Building a relationship with someone new can be scary at first, but a healthy and happy relationship can eventually heal your heart and give you hope for the future.
Don't let the stigma of a failed marriage hold you back — everyone has a story behind why they're single or what they've been through in the dating scene, and these experiences can make you stronger and help you figure out what you want for your love life.
Divorced Dating Websites Will Support in Your Journey
Divorced singles can be hesitant to join the modern dating scene, especially if they haven't been out there in a while, but it's actually not that scary. A divorced dating app can help make the experience both easy and enjoyable by providing an abundance of potential date options for free.
If you're a divorcee looking for a fresh start, then the easiest way to open yourself up to new experiences and romantic opportunities is to create a dating profile and start matching and chatting online.
Going through a divorce and dealing with its aftermath can be a difficult time, but once you've healed and are ready to jump back into the dating pool, these free divorced dating sites will be there for you!